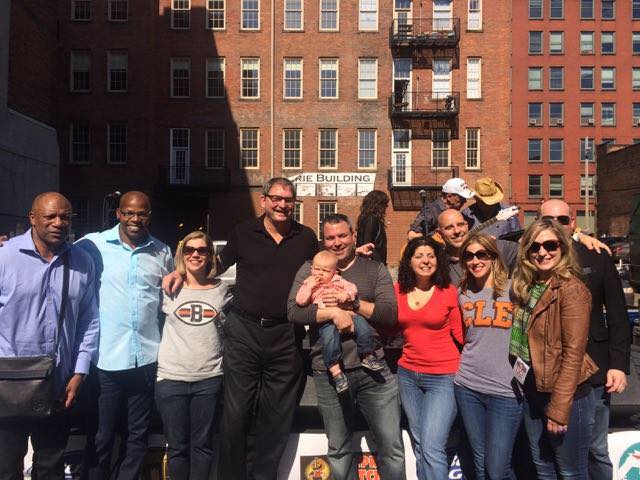 THE KAREN FOUNDATION is committed to building a movement by and for people with multiple sclerosis that will move us closer to a world free of this disease.
After several years of throwing an informal draft party to raise awareness of MS, The Karen Foundation for MS was founded in April of 2007 to honor Karen Bradley who courageously lived with MS for over 20 years. Sadly, Karen lost her battle with this disease in 2016. "This event meant a lot to my mom, and I look forward to carrying on her legacy for many years to come," said Joe Bradley, founder and president of The Karen Foundation for MS.
The mission of The Karen Foundation is to lend a helping hand to those who need it. The organization is committed to providing direct assistance for families that need help coping with the daily stresses that this disease brings into the home.

Through previous year's events and donations, the organization has been able to help hundreds of families in our area gain access to much- needed respite care services. These services make a marked impact on the quality of life of both those living with MS and their caregivers.
Over the years, all proceeds have helped people living with MS in Northeast Ohio through a special fund established with the Ohio Buckeye Chapter of the National MS Society. Since it's inception, the Karen Foundation for MS has raised over $220,000!
We are thrilled to announce that the organization has developed a new relationship with the Cleveland Clinic! Moving forward, a portion of the proceeds will be donated to the Mellen Center for Multiple Sclerosis Treatment and Research at the Cleveland Clinic. The Mellen Center was established in 1984, and is now one of the largest and most comprehensive programs for multiple sclerosis (MS) care and research worldwide. The Mellen Center focuses on addressing physical, emotional, cognitive and rehabilitation needs of the MS patient and their family members through a team approach and offers state-of-the-art resources to provide the most advanced specialized care, supported by an extensive program of research and education. Basic and clinical research conducted at Cleveland Clinic sheds new light on MS every year.
In addition, we will also continue to provide a portion of the proceeds to the National Multiple Sclerosis Society. The National Multiple Sclerosis Society exists because there are people with MS. Their vision is a world free of MS. Everything they do is focused so that people affected by MS can live their best lives as they stop MS in its tracks, restore what has been lost and end MS forever. The Society is a gathering place for people with MS, their family and loved ones, healthcare providers, volunteers, donors, fundraisers, advocates, community leaders and all those that seek a world free of MS. A place to connect and take action.
Thank you so much for your unrelenting support of The Karen Foundation for MS! As a registered 501(c)(3) organization, all donations are tax deductible.